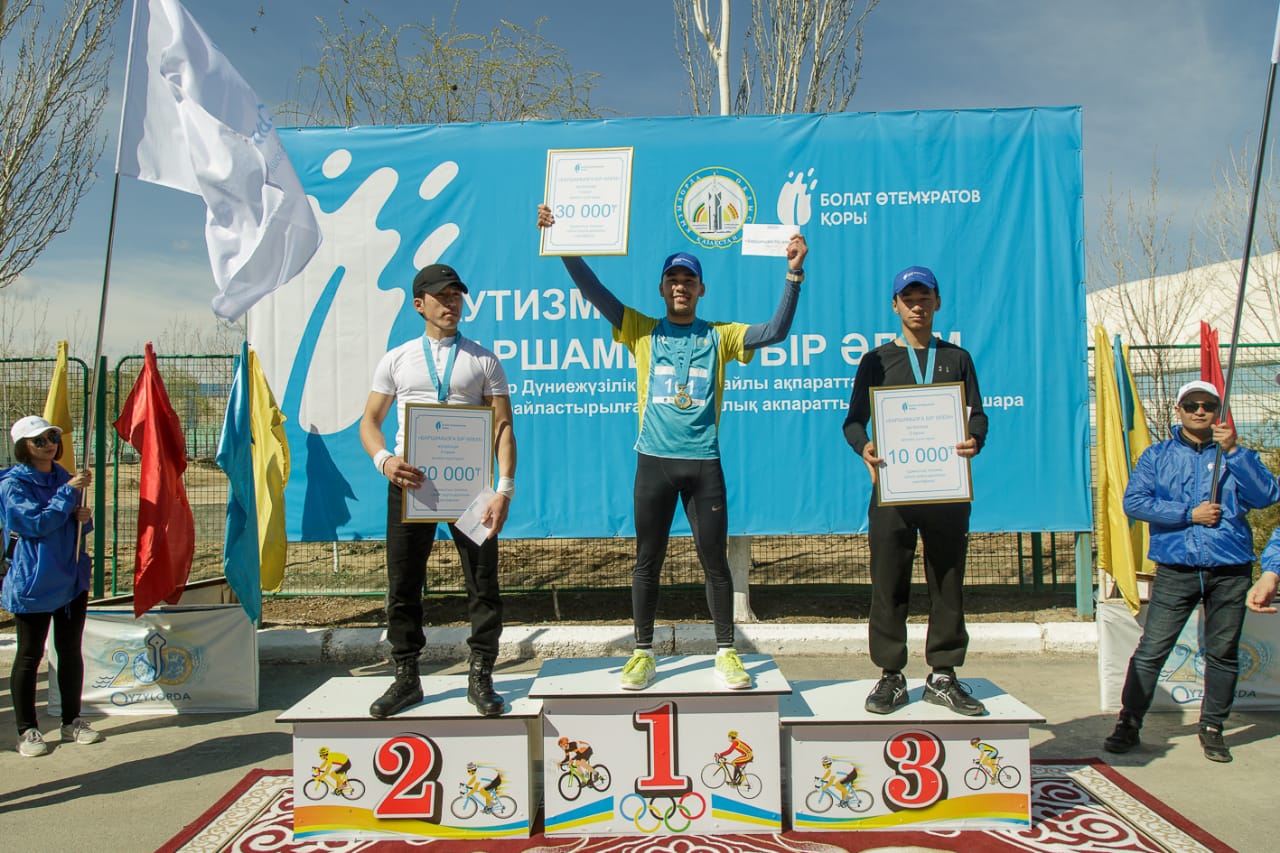 Mass Race Took Place in Kyzylorda within the Frame of the World Day of Informing about Autism
On March 30, the Bulat Utemuratov's Foundation carried out mass race in Kyzylorda city in order to improve awareness of citizens about autism.
Improvement of awareness of Kyzylorda residents in the issues of autism is a goal of the today's mass sport race in the regional center. The event was arranged at the initiative of the Bulat Utemuratov's Foundation under the auspices of the Akimat of the Kyzylorda Region.
5.5 kilometers race was confined to April 2, the World Day of Informing about Autism announced in 2008 by the United Nations General Assembly.
"Main problem in the autism issues is low level of awareness among citizens about the signs and consequences of the autism spectrum disorders, in this connection the children needed correction do not get necessary attention of specialists and parents. At the same time, autism is not a disease; it is a special condition of child development that is expressed in gaps in communications, social interactions and behavior. Such gaps are mostly subject to correction and the earlier the ASD is detected in a child, the more effective correction is. A child must be instilled the skills of communication and self-dependence to a greater or lesser degree so that quality of his/her life and life of his/her family is maintained at usual level. Therefore, it is very important to attract attention of society to the problems of autism and increase the general level of awareness. We carry out our mass sport race exactly for drawing of attention," Marat Aitmagambetov, Director of the Bulat Utemuratov's Foundation, said.
About 700 persons participated in the mass race. All the participants were divided into 4 categories by sex and age. Winners in each category were awarded with memorable gifts and medals.
The Bulat Utemuratov's Foundation implements program "Autism. One World for All," within which Asyl Miras Autism Centers had been established in seven cities of Kazakhstan, where the specialists of the Foundation help to develop necessary skills in children with autism spectrum disorders on a non-repayable basis. The Asyl Miras Autism Center in Kyzylorda city was opened in June 2016; more than 500 families visited the Center by now.
The Bulat Utemuratov's Foundation express thanks for the support in the event to the Akimat of the Kyzylorda Region, Department of Physical Fitness and Sports for Kyzylorda Region and Volunteers of Kyzylorda Public Foundation.
Back to the news