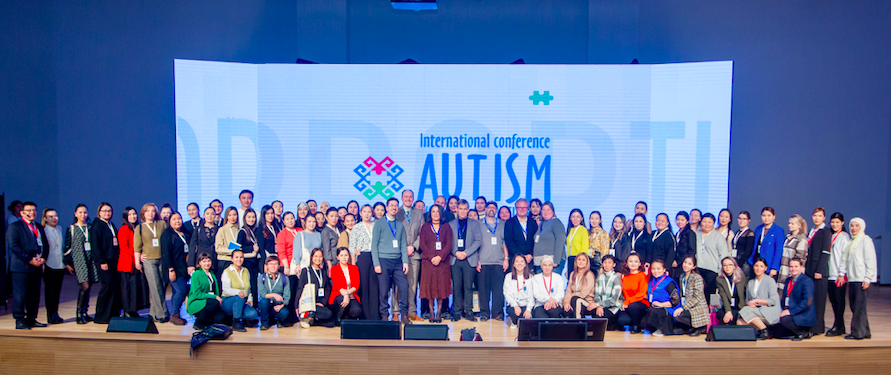 International Conference on Autism started in Almaty
On November 29 and 30 in Almaty, the Bulat Utemuratov Foundation and Narxoz University are holding the IV International Conference "AUTISM. THE WORLD OF OPPORTUNITIES"
18 recognized world-class experts - leading international specialists in the field of autism research, developers of best practices and parents of children with autism spectrum disorder (ASD) will speak at the Conference.
The Conference participants include representatives of the Ministries of Education, Health, Labor and Social Protection of the Population of the Republic of Kazakhstan, teachers and psychologists, speech therapists and speech pathologists, parents of children with ASD, as well as public organizations that deal with autism issues.
You can watch the speakers' speeches on the Foundation's YouTube

"Our annual Conference on autism, which is held in the new campus of Narxoz University, is attended by the luminaries of science and a cohort of remarkable scientists. They talk about advanced technologies and new achievements that we successfully adopt and implement in our Asyl Miras Autism Centers, of which there are already 11 across the country. This year the Conference is held on-line. Participants can interact with speakers and communicate," said Dr. Almaz Sharman, Chairman of the Board of Trustees of the Bulat Utemuratov Foundation.
On the first day of the Conference, there will be lectures from doctors and researchers in the field of ASD from the USA, Poland and other countries. For example, Keith Wargo and Andy Shih (Autism Speaks, New York, USA) will talk about new opportunities to improve the quality of life of people with ASD and their families.
Professor Stephen Shore (Adelphi University, New York, USA) will discuss with the audience the four aspects of autism: awareness, acceptance, evaluation and action on the way towards a full-quality and productive life. Nathan Call, Professor of Pediatrics (Marcus Autism Center, Atlanta, USA) will share his experience on behavioural intervention methods when dealing with problem behaviour. Connie Kasari, distinguished Professor (University of California, Los Angeles, USA) will talk about peer relationships at school for children with ASD.
On the second day, such well-known professors and specialists as James Partington, PhD, BCBA-D, consulting psychologist, California, USA, Alexandr Sorokin, Candidate of Biological Sciences, Haskins Laboratories, New York, USA, Filiz Polat, PhD, Professor, Leading Research Supervisor of Inclusive Education, Nazarbayev University, Giacomo Vivanti, PhD, Associate Professor, A.J. Drexel University, Philadelphia, USA, and others will speak at the Conference. For example, Antonina Shangraw, Clinical Director of Positive Behavioral Services of Four Corners, Colorado, USA, will conduct a training workshop on developing an effective behavioural plan for children with ASD.
"I welcome all teachers, specialists, doctors and other professionals who have gathered at this important International Conference organized by the Bulat Utemuratov's Foundation. I hope you will enjoy my speech and reports of other scientists and researchers, you will be able to learn something new and useful, so that together we can influence the lives of children with ASD and their families," said Dr. Giacomo Vivanti in his welcoming speech.
More information about the program of the Conference can be found at: http://conference.utemuratovfund.org/

Back to the news