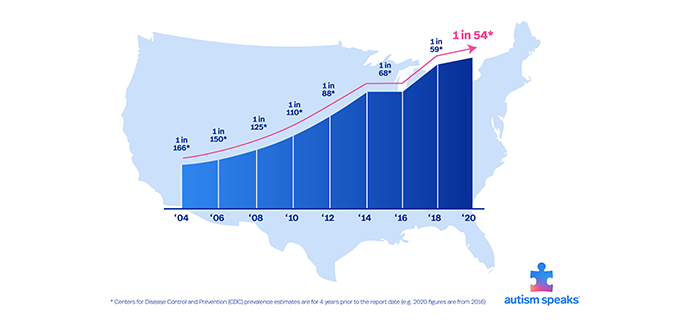 CDC report on prevelence of autism among children
On March 27, 2020, CDC, the USA, published the two-year report on prevalence of children diagnosed autism spectrum disorders (ASD). Period of the study: 2016.
The report is based on the results of two separate reports within the frame of which data of eight- and four-years-old children had been studied. The previous report included results of study of only eight-years-old children.
Every year, since CDC started to track prevalence of autism in 2000 through the ADDM, the figures constantly increased. The same was this year. The report showed that the number of diagnosed eight-years-old children was 1 to 54. The previous index published in 2018 was 1 to 59. It is not known, whether the increase in ASD prevalence relates to the increase in ASD development risk or the change in society awareness and identification patterns.
As usual, assessments varied from state to state - from 13.1 per 1000 eight-years-old children (1 of 76) in Colorado to 31.4 per 1000 eight-years-old children (1 of 32) in New Jersey. Similar to previous studies, boys were identified more often than girls. Prevalence among eight-years-old boys was 29.7 per 1000, i.e. 4.3-fold higher than 6.9 per 1000 among eight-years-old girls.
According to the report, the progress was made in the increase in the number of children who pass the first assessment of ASD development to 36 months.
Back to the news