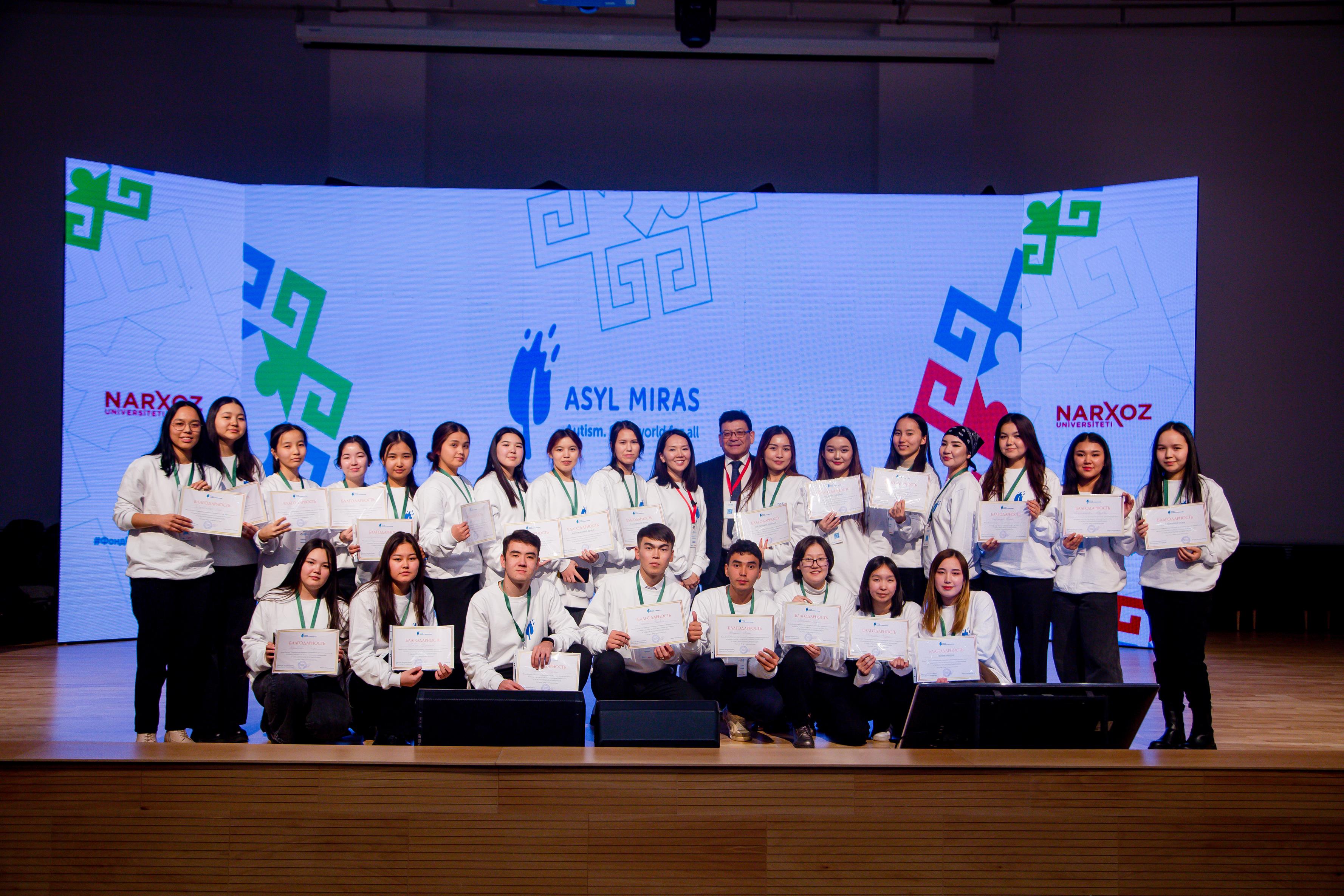 The IV International Conference "Autism. The World of Opportunities" ended in Almaty
By invitation of the Bulat Utemuratov's Foundation 560 participants and speakers from Kazakhstan, Kyrgyzstan, USA, Poland, Russia and other countries came to Almaty and within two days shared their experience, methods and knowledge within the verge of Narxoz University.
During the Conference, there was an online broadcast, which more than 10 thousand people from different regions of Kazakhstan and foreign countries have already watched. It should be noted that scientists and practitioners representing various public foundations and organizations, ministries and agencies were among the speakers at the Conference.
Zhanagul Dilzhanova, Director of the Social Services Department of the Ministry of Labor and Social Security of the Republic of Kazakhstan, "I was inspired by the Conference; it brought together not only public associations, but also representatives of government agencies and international experts. I am glad that the Bulat Utemuratov's Foundation and Asyl Miras have shown a high level - we are not only learning, we are keeping pace, and in some ways we are ahead of foreigners. The Asyl Miras graduate from Kyzylorda is in his first year at the Korkyt-Ata University, majoring in IT. This is a very great achievement. It's time for us all to work together! We must take the experience and methods that Asyl Miras has developed and widely implement them. A tremendous amount of work had been also performed by parents! As the experts at the Conference noted, 70% of the success of a child with autism spectrum disorder (ASD) is the active participation of parents. Asyl Miras not only helps children to socialize, but also teaches parents how to work with their children at home. We, as government agencies, must work together, along with private and public foundations. I liked the high level of the Conference and the presentation of information. We spoke as equals and the communication worked! Such conferences should be held in all regions of the country. The effectiveness of aid can be improved if we hold such conferences in all regions, maybe with online participation of international experts."
Alexander Sorokin, Candidate of Biological Sciences, Haskins Laboratories, New York, USA, "The Conference is an important international forum; it brings together, in a welcoming format, specialists, parents, people with autism whom you have seen today, business representatives and politicians. In this way, the idea that we will move forward if we all work together is emphasized! And the slogan "Autism. One World for All!" corresponds to this very well. The merit of the Bulat Utemuratov's Foundation is in the deep understanding of the problem of autism spectrum disorders. Understanding of its complexity and necessity of consolidation of the efforts of society, families, government, and business. This is the key to success.
After several years of being in remote mode, the speakers that are remembered first and foremost are those who spoke live. At this year Bulat Utemuratov's Foundation Conference, the balance of online and offline was excellent! All the speakers did their best and shared their knowledge for research and to help families."
Elmira Akhmetova, a resident of Astana, "The Conference was large-scale, all the speakers were great, we learned a lot of useful things. Since I work with children with ASD, this event was useful to me. The organization of the Conference was super! There was a great atmosphere at the seminars, and we were able to closely communicate with the Conference speakers. We sat closer, learned a lot, and had time to talk to the speakers in person. Thank you very much to the Bulat Utemuratov's Foundation!"
Antonina Shangraw, PhD, BCBA-D, Clinical Director, Behavior Matters LLC, Alaska, USA, "Thank the Foundation for the invitation, a very interesting conference! Very high quality organization and very interested listeners!"
Aliya Arkharova, President of the Ashyk Alem Public Foundation, "The impressions are stunning! There was a lot of excitement and joy from the very atmosphere, from the first minute and from the first steps, the walls of the Narxoz, from the first minute. We were all very inspired from the beginning; the selection of topics was very good. Of course, now it would be nice to develop, to emphasize also teenagers and adults! Good luck, keep up the good work, and we'd love to come to this Conference every year!"
Giacomo Vivanti, PhD, Assistant Professor, A.J. Drexel University, Philadelphia, USA, "This was a world-class Conference. Content of the Conference was very impressive. The science is strongly represented and it provides a lot of inspiration! This work must be continued."

Back to the news